So I came home from work last Friday and Jeremy handed me a card he had picked up while at Borders (love their Paperchase stuff!).
On the outside ... a herd of Frenchies: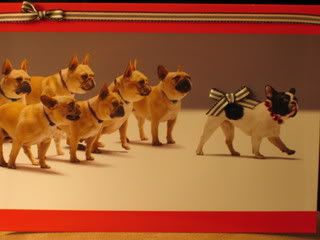 (sorry for the somewhat crap picture ... there were literally 47 separate attempts to take a semi-decent pic.)
When you open the card, there's an audio chip embedded in the back that plays a wolf whistle. On the inside it reads: "Looking good girlfriend! Happy Birthday!"
Heh.
He's so cute -- just love him! He knew he had to get it for me, so he gave me a b-day card six months early. Yay for Frenchies and Fiances!!