Only just now hearing about the possibly leaked seventh Harry Potter book:
Frustrating perhaps the most elaborately orchestrated marketing machine ever mobilized for a book, photographs of what appeared to be every single page of "Harry Potter and the Deathly Hallows," the breathlessly awaited seventh and final installment in the series by J. K. Rowling, were circulating on the Web yesterday.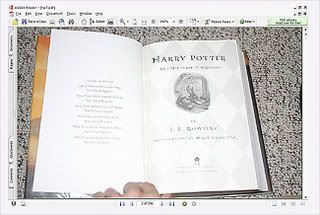 Seems rather a shame, but hardly unexpected in this day and age. I'm pretty vehemently anti-spoiler myself (I always end up so disappointed!), so I won't be searching for it on BitTorrent or Flickr.
Also, how exhausting to try and read all of those tiny pictures!
I'll just be waiting, quietly, for the postman to arrive on July 21. Hope Jeremy isn't under the impression that I'm going to be useful for anything on Saturday ;o)