Jeremy and I had a bit of a movie-heavy weekend over the Labor Day holiday.
On Friday, we had dinner at Cardwell's (calamari appetizer followed by heirloom tomato salad: yum! Frogmore stew: meh), in part, to celebrate some recent work-related successes :o) After dinner, we went to see "Once" at Plaza Frontenac Cinema.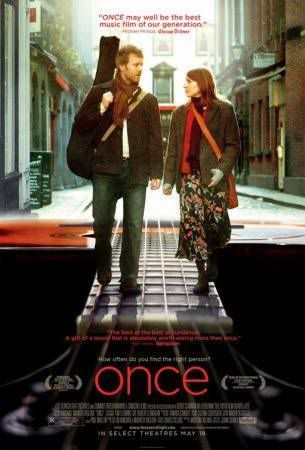 I cannot stop thinking about this film and honestly, I don't even know where to begin -- and I definitely don't want to give anything away: it was just simply glorious. One of those experiences where you're sitting in the theater, entirely aware that you're watching something amazing unfold before you.
Oh, and the music! We bought the soundtrack first moment we could and have been listening to it virtually non-stop. Glen Hansard (of the Frames) and Markéta Irglová (only 17! when the movie was filmed) have become NPR darlings -- and they have been featured on air on numerous occasions, promoting their new project "The Swell Season." You can download and hear them perform live as part of World Cafe and All Songs Considered.
Just absolutely gorgeous music with haunting lyrics. Markéta Irglová's "The Hill" is one of my favorites:
Looking up the hill tonight
When you have closed your eyes
I wish I didn't have to make all those mistakes and be wise
Please try to be patient and know that I'm still learning
I'm sorry that you have to see the strength inside me burning

Where are you now, angel now
Don't you see me crying
And I know that you can't do it all
But you can't say your not trying
I'm on my knees in front of him
But he doesn't seem to see me
But all his troubles on his mind is looking right through me
And I'm letting myself down deciding is falling you
And I wished that you could see I have my troubles too

Lookin' at you sleeping
I'm with a man I know
I'm sitting here weeping while the hours pass so slow
And I know that in the mornin' I have to let you go
And you'll be just a man once I leave to know
For these past few days someone I don't recognize
This isn't all my fault
When will you realize

Lookin' at you leavin'
I'm looking for a sign
You can listen to samples here. What are you waiting for?! Go see this film!