Probably not my style since I'm not sure what on earth I'd do with it (I may be a pack rat, but I'm an unsentimental one) -- but stumbled across this etsy listing today and thought it was interesting.
For $200, etsy seller missperiwinkle will create a miniature replica of your wedding gown:
"After you put your wedding gown away into storage, your minigown replica will be a sweet reminder of how beautiful you looked on your wedding day. It can be displayed near your cherished wedding photos or simply stand alone. Each gown comes complete on its' [sic]own linen covered dress form and stands approximately 14" tall."
She uses front and back photographs of your dress, along with any close-up shots showing embroidery or beading details.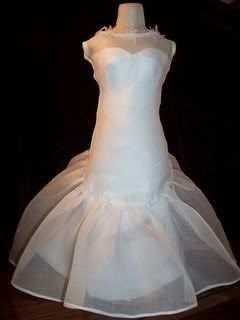 Might be an option if you cringe at the thought of sealing your gown away in a box, never to be seen again. Or if your real dress never fully recovered from your trash the dress session, and you'd like to relive it in all its pristine glory.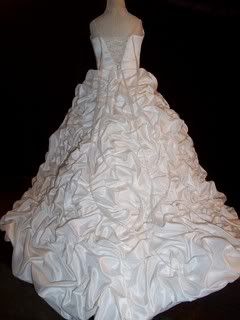 Very detailed work!