Is registered! I love those words!!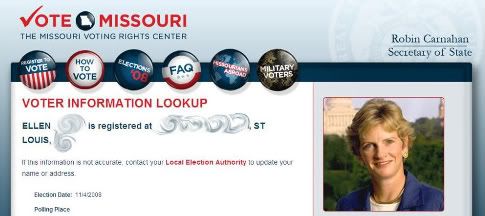 After literally countless hours spent on hold with the Board of Elections, it's now official that the state has my correct voter registration information: name AND address. Honestly, despite all my worrying, everyone at the Board of Elections was extremely helpful and friendly --- and I'm very grateful that this was all straightened out, just in time :o)
Live in Missouri and curious about the status of your own registration? Check out the voter information lookup here.
Outside of Missouri? Check here.
And consider this your friendly, uncensored public service reminder about voting, the importance of this election, things that matter, etc. Just doing my part here, people ;o)