I'll have to share some of the great things I picked up while at IKEA, but one of my favorite purchases from the weekend was this beautiful little guy that I picked up at the Le Creuset outlet: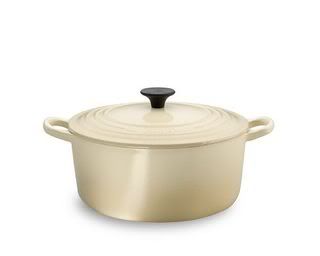 Isn't he darling? He was a "second," so I got an even better deal -- but the only noticeable problem was just some slight paint discoloration on the lid. I've been wanting a smaller enameled cast iron pot, and this 3 1/2 quart size is perfect.
You do know about my love affair for Le Creuset, right? And really, all things made from enameled cast iron. I truly use this cookware for just about everything and I love it. NOTHING sticks to it, it cooks so evenly and perfectly and cleans up so well.
He looks so happy perched on top of my blue enameled cast iron "chili pot" from Martha Stewart:
Please excuse this rather crappy photo and my obviously-in-need-of-a-spring-cleaning kitchen.
Oh, but in the photo you can see my lovely slate colored, oval dutch oven peeking out of the corner on the right. The color is great for our kitchen and I got a fantastic deal on it -- Williams-Sonoma apparently has started selling that color only online, so all of their in-stock slate colored Le Creuset was deeply discounted this winter. I snagged that guy one night when we went to Plaza Frontenac to see a movie. The hubs went off to get tickets and I said I was just going to do a quick browse through the store. He was rather bemused when I met him in the concessions line with a huge, heavy bag and a grin on my face.
Dune is by far my favorite color, and in the future I'm going to try and collect more pieces in this color (much to my husband's chagrin) -- but I do like having a few other colors in my kitchen, too -- keeps things cheerful, no? ;o)