Since I'm behind on posting this - I'm going to let this little contest of mine run through the weekend, at the very least.
This past Christmas, my mom got me a subscription to Better Homes and Gardens, after I kept stealing her copies from the house whenever I would visit.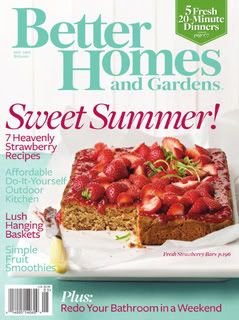 Anyway. I don't know if BH&G has gone through a recent redesign or what, but I've really been enjoying their fresh, more modern approach to decor and home design. I'm always getting lots of great inspiration - and their gardening sections have been really valuable - full of useful tips and ideas. Their spring issue was particularly great: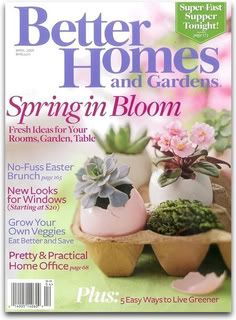 So I thought I'd share the love a little!
The giveaway details: I received in the mail the other day a 3-1 offer - if I renew my subscription now (early, before it runs up), I can give two free subscriptions to friends. One of them I'm using to return the favor for a friend who signed me up with free subscription, thanks to a similar offer, from ANOTHER magazine. But that other free gift subscription will be up for grabs!
Just leave a comment below and tell me what home or garden task would you like to learn more about (cooking, gardening, decorating, sewing, etc.). Don't forget to include your first name and your e-mail or blog link or some form of contact information. You do not need to provide your last name or mailing address in the comments section. I'll close the contest some time next week, once I have a few entries, then I'll pick a comment at random. After that I'll contact the lucky winner directly to get their address details and fill out the gift subscription card for you. That's it! How easy is that?
So, if a free year of Better Homes and Gardens sounds right up your alley, leave a comment below!
Have a great weekend, everyone!
**The fine print: I am in no-way affiliated with Better Homes and Gardens, their parent company, publisher, marketing or public relations agency, etc. This is not a BHG sponsored contest, I'm just sharing a gift subscription offer that I received in the mail, as part of my own subscription renewal. No endorsement by BHG of this giveaway should be inferred.**