Thanks to everyone who participated in my first every blog giveaway! I hope to have more of these types of contests in the future :o)
So! I had eight comments - numbered 1-8 depending on time and order of comment submission. I put that into the handy random integer generator courtesy of Random.org and came up with: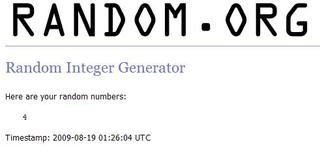 Comment number 4:
I have bought some new paint for my kitchen that I love, but it's been sitting there for 4 months since I can't figure out how to decorate the kitchen now. Maybe some visuals would help!

Posted by: Kristen | August 11, 2009 at 03:03 PM
Congrats, Kristen! E-mail me your address (e-mail link is on my blog, under "About" on the left-hand side) and I'll sign you up for your free subscription to Better Homes & Gardens.
Yay!