Surprisingly, I haven't spent TOO much time gathering ideas for the nursery -- but I've definitely been looking. I think part of the problem is that I haven't really committed to one style -- I don't have a definite idea in mind -- so I think that can make things slow in getting started.
But! I think I have come up with a rug idea. Back when we were deciding on a runner for our hallway (we went "Sea Foam," in case you were wondering) -- what I REALLY wanted was a faux bois runner. I liked the idea of the contrast between our dark wood floors and a lighter woodgrain rug pattern. Pottery Barn had one, so did Martha Stewart (in her line for Safavieh) -- but both were out of our price range, and in the case of PB - discontinued (the runners never seemed to show up on eBay, only the area rugs).
I kept thinking - WHY doesn't Martha Stewart add a faux bois pattern to her collection at Flor? Apparently, the MS gods were listening to me ...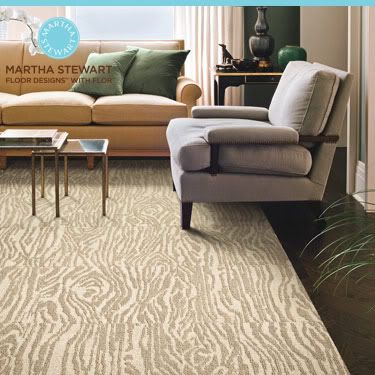 I noticed the new pattern when the Flor catalog arrived the other day -- I'm so excited! I really been wanting to incorporate faux bois SOMEHOW into the nursery and I had been pondering refinishing an existing dresser I had in a faux bois pattern, but this rug would be a MUCH easier way to subtly bring in this pattern.
I've ordered a sample of the "Moon/Bisque" colorway and the "Bisque/Reed," to see which looks best against our floors. The room of our intended nursery is quite small. I'm initially imagining a 5x8 rug - but maybe even a 3x5 would work. I'm going to need to do some measuring when I get home.
What's great about Flor, is that if one square gets horribly stained and ruined, it will be so easy to replace! I'm excited about the versatility of this product.
So, I've finally made one small step towards nursery preparedness! Well, other than shredding 3 bags full of paper and old bills (the room is currently our office - i.e. paper dumping ground).