Finally getting around to posting about our invitations ...
As I've mentioned before, these were designed by my dear friend and extraordinarily gifted MOH, Diana. This would not have been possible without her. And many thanks to her for snapping these fantastic pictures for me!
Thermography printing was done by Shamrock Raisdletter, the only printing company who didn't freak out when they saw the scalloped response card. They went above and beyond -- Ed Shaver was able to get a custom die made and handled all the details so they could make the scalloped card print properly. I thought their prices were very reasonable and was just thrilled to find someone who was willing to work with our out-of-the-box design.

Calligraphy was done by the absolutely fabulous Laura Hooper -- check out her etsy shop. She was an absolute joy to work with. She did the return address on the back of the envelopes for me as well. Love her.

This first picture shows the outer envelope - with the calligraphy and custom stamps -- plus outer pocketfold with ribbon, "name card" in place of inner envelope and little jewel (you can click on any picture to view a larger image):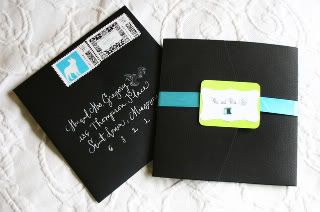 This is one of the stamps used on the outer envelope -- it was actually a pre-made one on Zazzle -- I knew I had to get it when I saw that it was a Frenchie and in one of our wedding colors!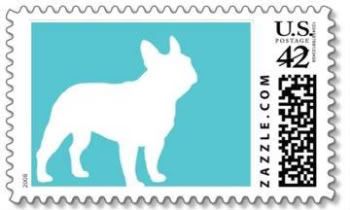 The other custom stamp that I designed -- it came out a little fuzzy, but that was entirely my fault: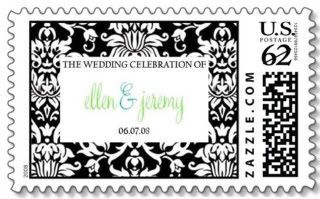 This is a picture of the outer envelope, showing the DIY envelope liner made from wrapping paper, and closed pocketfold (from envelopments):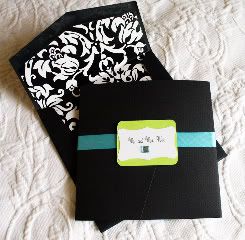 Interior of the pocketfold, showing all of the invitation elements: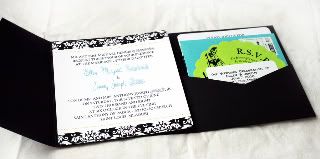 Close-up of invitation:
Close-up of reception card: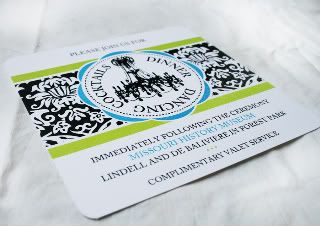 Custom scalloped response card with DIY lined response card envelope -- we actually used several different kinds of black and white wrapping paper for the response card envelopes. The address (not shown in this picture) for the response card envelope was actually flat printed by our printmaker at work -- he did a fab job: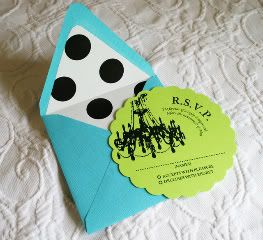 I don't have an actual photo of it,but here's the custom stamp that was used on the response card envelope: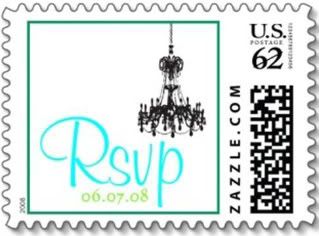 The whole invitation suite, with super last-minute directions/address card: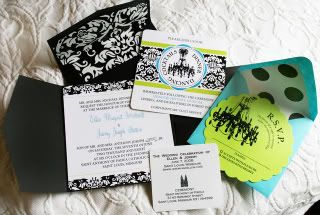 The square design obviously posed some issues when it came to postage -- because in addition to it's squareness, it's also rather large (6"x6"). We were literally given a half a dozen different postage rate quotes, ranging from something in the 50 cent range to close to $2.00 -- depending on whether they thought it was a odd-sized envelope or a flat package. The majority of answers seemed to hover in the 70 - 80 cent range. We weighed the envelope at several different post offices, I called around, I checked online -- everyone had a different answer, which was sort of nerve-wracking. Ultimately we just decided better safe than sorry, and used two stamps totally $1.04. All were delivered safely.
Due to the size and possibly the color -- it appears that all of the envelopes were hand-canceled, something I didn't even bother to request -- which worked out well for me!
I could not have loved these more -- everything came out perfectly and we received SO many compliments. Several people asked for extra response cards or called to RSVP over the phone because they didn't want to part with them!
The invitations were the thing I agonized over the most -- I knew from day one that this was probably the one element that I care most about. I was incredibly indecisive about what exactly I wanted -- which made things difficult for everyone. I was fortunate enough to have a good friend who knew me well enough to pull this concept out of the depths of my imagination. Jeremy and I were thrilled with how everything looked. It was hard to part with them when it came time for mailing! We ended up not evening mailing "our invitation" -- I'm happy that we'll always have that little memento.